Das Developer Dashboard in Sharepoint 2010 bietet die Möglichkeit den Seitenaufbau nachzuverfolgen.
Die Informationen die das Dashboard anzeigt beziehen sich auf die Seite, die Datenbankaufrufe, die Webservice Aufrufe, usw.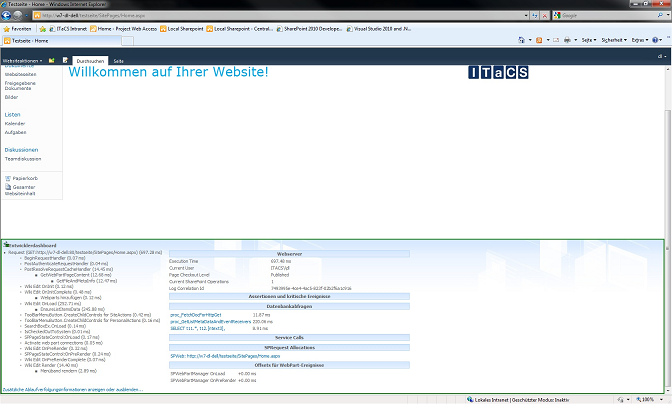 Bevor man das Dashboard aktiviert, sollte man wissen, dass es folgende Optionen gibt:
On – Schaltet das Developer Dashboard an
Off – Schaltet das Developer Dashboard aus
OnDemand – Ermöglicht das Öffnen des Developer Dashboards über einen Button im Menü

Folgende Möglichkeiten gibt es um das Developer Dashboard in Sharepoint zu aktivieren:
STSADM.EXE
PowerShell
Sharepoint Object Model
STSADM.EXE
Eingabeaufforderung (cmd) öffnen und in den Ordner C:Program FilesCommon FilesMicrosoft SharedWeb Server Extensions14BIN wecheln.
Danach folgenden stsadm.exe mit folgenden Parametern ausführen:

stsadm.exe -o setproperty -propertyname developer-dashboard -propertyvalue On

PowerShell
Nachdem man eine PowerShell geöffnet hat, muss man zuerst die Sharepoint 2010 PowerShell Bibliothek laden:

Add-PSSnapin Microsoft.SharePoint.Powershell

Jetzt kann man einfach folgendes Skript benutzen um das Developer Dashboard zu aktivieren:

$ddb= [Microsoft.Sharepoint.Administration.SPWebService]::ContentService.DeveloperDashboardSettings
$ddb.DisplayLevel = "On"
$ddb.TraceEnabled = $true
$ddb.Update()

Sharepoint Object Model
Um das Developer Dashboard mittels Sharepoint Object Model (kurz: Sharepoint OM) muss man mit Visual Studio ein neues Projekt erstellen und danach die Sharepoint OM Assembly als Referenz hinzufügen.
Die Assembly findet man im GAC unter dem Namen Microsoft.Sharepoint.
Der Code, der das Developer Dashboard aktiviert sieht folgendermaßen aus:

SPWebService.ContentService.DeveloperDashboardSettings.DisplayLevel = SPDeveloperDashboardLevel.On;
SPWebService.ContentService.DeveloperDashboardSettings.TraceEnabled = true;
SPWebService.ContentService.DeveloperDashboardSettings.Update();

Bevor das Programm richtig läuft muss die Zielplattform auf x64 umgestellt sein, da man sonst eine NullReferenceException hervorruft (weitere Infos dazu gibts auf René Hézser's Blog).
Have fun with Sharepoint 2010!